The Power of the Doctor: Jodie Whittaker's Doctor Who finale – live | Doctor Who
October 23, 2022
Key events
Here are some quotes from showrunner Chris Chibnall about what you can expect from tonight's episode. He told the BBC "You can expect a massive all action thrill ride from start to finish. There will be laughter, there will be huge jeopardy, and there will be tears."
He also said "it's a regeneration episode, but it's also a celebratory episode for the BBC centenary and Doctor Who's place within the BBC. There are lots and lots of easter eggs. Some are visual, some are verbal, some are so deeply buried that only few people will recognise them."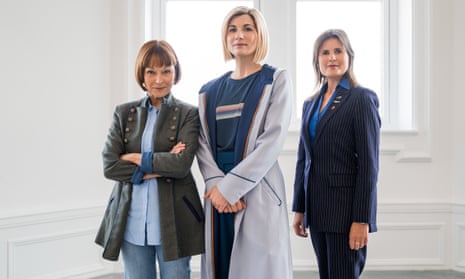 On the decision to bring back Tegan (Janet Fielding) and Ace (Sophie Aldred), who we've seen in the trailer and in pre-publicity shots, he said: "Those characters and those actors came to mind as I think they're representative of certain times in the show's history and they are both incredibly strong and vibrant characters. There are so many to choose from and in a way you want to do all of them but actually, I had to just pick two! And what both of them said separately was 'Oh I think, Tegan would get on well with Ace' and then 'Oh I think Ace would get on really well with Tegan'."
Welcome – and how this is going to work
"This is the day you are erased for ever … bit of a conversation stopper"
That is the Master, played by Sacha Dhawan, in the trailer for tonight's Doctor Who episode, The Power of the Doctor, in which we know that Jodie Whittaker is playing the Doctor for the last time, and is going to regenerate. But how?
I'll be live blogging along with the BBC One transmission of the special which starts at 7.30pm in the UK. I promise not to spoiler anything before it has been seen in the UK, and I'll be adding some meta-commentary, jokes, pics, reaction and fun as we hurtle towards the end of the Whittaker era. You'll be able to second-screen it while it is on without me ruining anything, or read it back after the show has finished.
And when the episode has finished in the UK, I'll publish my recap here, and throw open the comments for us all to discuss. I appreciate that it is an international show and not everybody is getting to watch it at the same time, but what can you do?
To be clear I've been lucky enough to see most of the episode already – up until the very last moments which have been held back from TV reviewers by the BBC – so I don't know quite how it ends, but I can promise you, without spoilers, that you are in for a ride.