Manchester United v Fulham: FA Cup quarter-final – live | FA Cup
March 19, 2023
Key events
32 min A sharp pass from Martinez into Weghorst sparks United's best move so far. Weghorst and Sabitzer combine to find Rashford, whose shot from a very tight angle is blocked at the near post by Leno. Rashford's touch on the edge of the area was slightly heavy, hence the narrow angle.
31 min I should have said earlier that there are no replays in the FA Cup quarter-final, so this game will go extra-time and penalties if necessary.
31 min Robinson's curling cross is headed over from 12 yards by Mitrovic. The presence of Martinez meant he couldn't quite get on top of the ball, but it was still a half decent chance.
30 min The only criticism of Fulham's so far, and it's a not insignificant one, is that they haven't really created any chances. Everything else has been just ticketyboo.
29 min "United are playing like a group that has had a fixture every three days since the restart, with limited rotation from a first-season manager still trying to figure out his best setup," says Matthew Richman. "Yet another knock-on effect from a season of world football characterised by alleged bribery, fraud, and human-rights abuses.
"Yes, Qatar was a good World Cup on the pitch, but the subsequent football is yet another addition to the price paid. I'll be sickened if their bid for United makes good."
You know things are bad when the Glazers are the lesser evil.
26 min Harrison Reed, who has been terrific so far, is holding his right hamstring. That would be a blow for Fulham.
25 min Reed dances past two players and stabs a pass down the side of the defence towards Mitrovic, who goes down under challenge from Martinez. There was a bit of contact, but not enough for the referee (or VAR) to give a penalty. Mitrovic was looking for it, although it was still a risky challenge by Martinez. In previous seasons, certainly 2020-21, I think that would have been given.
23 min Rashford, near the left edge of the area, flips a really nice cross from a standing position that just evades both Sabitzer and Weghorst in the six-yard box.
21 min Maguire is booked for pulling back Mitrovic, which means he'll miss the semi-final one way or another. United are struggling here.
20 min Casemiro is having a great game.
19 min "Your preamble took me back to the time about a decade ago when I played the tune 'Seven Days of the Week (I Never Go to Work)' by They Might Be Giants to my kids when they were young and impressionable," says Peter Oh. "I can still feel the enthusiasm with which they lustily yelped along to the 'I never go to work' part.
"As for the match, United might be giants and Old Trafford a fortress, but the lads from the Cottage could cause a surprise, couldn't they?"
It sounds like that song made a birdhouse in yo- oh never mind.
18 min "What a pathetic shot from Weghorst!!" says Jeff Sax. "There has to be a better player in their Academy?!"
He's a centre-forward Jeff, he's not in the team to score goals.
17 min Pereira is booked for a tactical foul on Sancho.
17 min Fulham have been much the better side. We've seen this kind of sluggish start a few times from United in recent weeks; they're shattered, aren't they.
15 min An outstanding cross from Ream on the left bounces right across the six-yard box and out for a goalkick. Oof, that was begging for somebody to wallop it into the roof of the net from a yard or two out.
14 min Reed gets round the back on the right after outsmarting Martinez, but his cutback towards Pereira is put behind by Sabitzer.
13 min After Rashford's first thrilling surge of the game, Weghorst shoots straight at Leno from the edge of the area. A half chance.
10 min Fernandes looks in a fair bit of discomfort, though I suspect he's just winded. He's back on the field now.
9 min Fernandes goes down holding his stomach after an elbow from Willian. United play on a for a while, assuming he's crying wolf, but eventually Sancho puts the ball out of play.
8 min Rashford's on the left now, with Fernandes on the right and Sancho as the No10. I give up.
8 min Pereira plays a good reverse pass to Mitrovic, whose run into the area is tracked by Martinez. Mitrovic lays the ball back to Willian, who swishes well wide from 20 yards with the outside of his right foot.
7 min Actually, Rashford is now playing on the right, with Sancho left. Bit weird. I'm sure they started the other way round.
5 min It's been a really good start from Fulham, aggressive and purposeful. United have hardly crossed the halfway line.
3 min Fulham appeal unsuccessfully for a penalty when Mitrovic, in mid-air and about to head the ball towards goal, is eased aside by Shaw. We haven't seen a replay but apparently VAR isn't getting involved. My instinct is that the contact wasn't strong enough for a penalty.
3 min Fulham regain possession and Diop, still up from the corner, loops a header that is pushed over the backpedalling de Gea. A comfortable save.
2 min Pereira's dangerous cross towards Mitrovic is put behind by McTominay. Pereira takes the corner, and the abundant noggin of Harry Maguire deals with it.
1 min Tacticswatch: United have started with Bruno Fernandes as the No10 and Jadon Sancho on the right. Everything else is as expected.
1 min Peep peep! Andreas Pereira, once of United, gets things going. Fulham are kicking from right to left as we watch.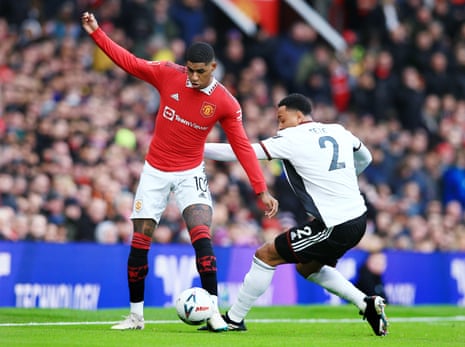 The winners of today's game will play Brighton in the semi-final, and the winners of that game will play Manchester City in the final.
"As the match is on what used to be known as terrestrial TV I can watch Fulham go down to, I hope, honourable defeat," says Richard Hirst. "Equally pertinently, I can test out whether the MBM coverage is as accurate and unbiased as I assume – no pressure!"
Who told you that goddamn lie?
A reminder of the teams, who are about to wander onto the field.
Man Utd (possible 4-2-3-1) De Gea; Wan-Bissaka, Maguire, Martinez, Shaw; McTominay, Sabitzer; Fernandes, Sancho, Rashford; Weghorst.
Substitutes: Butland, Dalot, Lindelof, Malacia, Fred, Mainoo, Pellistri, Antony, Elanga.
Fulham (4-2-3-1) Leno; Tete, Diop, Ream, Robinson; Palhinha, Reed; De Cordova-Reid, Pereira, Willian; Mitrovic.
Substitutes: Rodak, Tosin, Cedric, Lukic, Wilson, Cairney, Solomon, James, Vinicius.
Referee Chris Kavanagh.
And if you're a Manchester United fan, why haven't you subscribed to United Writing? Eh?
The semi-final draw is about to take place, with the draw for the final to follow. Join Daniel Harris to find out who the winner of today's game will be playing at Wembley next month.
"Welcome Rob," says Jeff Sax. "Will we see the Man Utd from the Liverpool game or a winning MU?"
Jeffrey, if I knew that, I'd be in a beer garden, on a betting app.
With Raphael Varane injured, Harry Maguire starts again today. And like just about every player at Old Trafford, he has improved under Erik ten Hag.
While we're talking about Grimsby, I had great fun this week researching their runs to the FA Cup semi-final in 1936 and 1939. If you like kooky details from the distant past, you'll enjoy it.
I also learned about Tom Zerboni, a dynamic teenage left-back who is the nephew of an old university friend. When he makes his debut for England (or Italy), hopefully I'll get an exclusive interview.
The semi-final line-up
The winners of this game will join Manchester City, Sheffield United and Brighton in the last four. Brighton are cruising to victory over Grimsby at the Amex, where the seriously impressive Evan Ferguson has scored twice.
Erik ten Hag makes four changes from the win away to Real Betis on Thursday. Luke Shaw, Scott McTominay, Marcel Sabitzer and Jadon Sancho replace Tyrell Malacia, the suspended Casemiro, Fred and Facundo Pellistri.
Marco Silva makes two changes to the side that was well beaten by Arsenal last weekend: Joao Palhinha and Willian return from suspension and injury respectively in place of Sasa Lukic and Manor Solomon. Both players have been so important for Fulham this season.
Man Utd (possible 4-2-3-1) De Gea; Wan-Bissaka, Maguire, Martinez, Shaw; McTominay, Sabitzer; Fernandes, Sancho, Rashford; Weghorst.
Substitutes: Butland, Dalot, Lindelof, Malacia, Fred, Mainoo, Pellistri, Antony, Elanga.
Fulham (4-2-3-1) Leno; Tete, Diop, Ream, Robinson; Palhinha, Reed; De Cordova-Reid, Andreas, Willian; Mitrovic.
Substitutes: Rodak, Tosin, Cedric, Lukic, Wilson, Cairney, Solomon, James, Vinicius.
Referee Chris Kavanagh.
Wednesday, Tuesday, Saturday, Tuesday, Friday, Tuesday, Saturday, Wednesday, Sunday, Wednesday, Saturday, Wednesday, Saturday, Wednesday, Sunday, Thursday, Sunday, Thursday, Sunday, Wednesday, Sunday, Thursday, Sunday, Thursday, Sunday.
As well as being the least compelling opening paragraph in the history of sports journalism, that's Manchester United's schedule between the World Cup and the upcoming international break (sic): 25 games in 88 days, with no midweeks off and something at stake every time. It's no they sit top of the Premier League's unofficial Fatigue Table.
Today's match is the second of three quarter-finals for United, a pleasant bonus in Erik ten Hag's first season but a potential distraction from the primary target: finishing fourth. They're in too deep to pull out now, and will be desperate to beat Fulham at Old Trafford today.
United's home form this season is superb – P25 W20 D3 L2 – but this doesn't feel like a banker: Fulham have troubled all the big teams away from home this season and are quietly having their best season in at least a decade. Reaching a first FA Cup semi-final since 2002 would blah blah happy cliche.
Kick off 4.30pm.