Manchester City v Burnley: FA Cup quarter-final – live | FA Cup
March 18, 2023
Key events
14 min: It's been a quiet start, but City suddenly click as Foden and Alvarez combine crisply down the left flank. Foden stands one up for Haaland, but overhits the cross and Burnley clear their lines.
12 min: Burnley are pressing City vigorously. Kompany studied at the School of Pep all right.
10 min: Roberts comes sliding in on Foden on the halfway line. He gets both ball and man. The crowd don't like it, and want Roberts booked, but that's not going to happen. Poor Foden's been in the wars already, though.
9 min: There was definitely contact, because Foden felt that, and is hobbling around a bit. Hopefully just walking off a knock.
7 min: Foden dribbles into the box from the left and is block tackled by Beyer. He goes over, though there's no real claim for a penalty. There was contact. You've seen players create over less.
6 min: Otherwise, it's been a fairly quiet start to the game. Saturday evening, prime-time light entertainment on the BBC, right here.
4 min: Ortega gives Lewis something of a hospital pass, and the young defender is nearly dispossessed by Vitinho's tackle. The ball breaks kindly for City, and Dias tidies up.
2 min: A reminder that there are no replays these days. We'll go to extra time and penalties if necessary.
Blue Moon rings around the Etihad … then Burnley get the ball rolling.
The teams are out! City wear their famous sky blue, Burnley sport a change strip of black and pink. A huge roar as the players take to the pitch, the visitors having taken nearly 8,000 fans with them today. Vincent Kompany then emerges from the tunnel and gets the reception you'd expect for a returning hero … but the biggest ovation of all is reserved for City living legend Mike Summerbee to mark the award of his OBE. We'll be off in a second!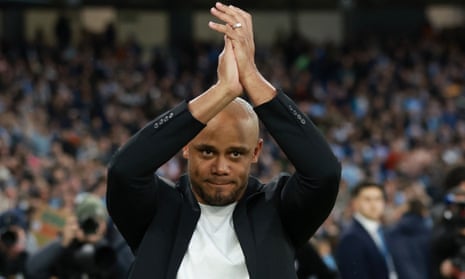 Pep Guardiola speaks to the BBC. "It will be really tough … what Burnley have done in the Championship, they are three or four games away to be champions and to be promoted … so that's why I expect a tough game … everyone who isn't exhausted or injured wants to play every game."
A blast of Barry Stoller's famous Match of the Day theme – how we missed it last week – and then, with a slight frog in the throat, Gary Lineker plays his return with a straight bat. "Good evening from the Etihad Stadium as Manchester City face Burnley."
At which point he introduces Alan Shearer, who addresses the elephant in the room: "I just needed to clear up and wanted to say how upset we were that all the audiences last week missed out on last weekend. It was a really difficult situation for everyone concerned, and through no fault of their own, some really great people in TV and in radio were put in an impossible situation, and that wasn't fair. So it's good to get back to some sort of normality and be talking about football again."
"I echo those sentiments," replies Lineker, who then segues seamlessly into some Burnley-based patter with Micah Richards. Everything everywhere back to normal all at once.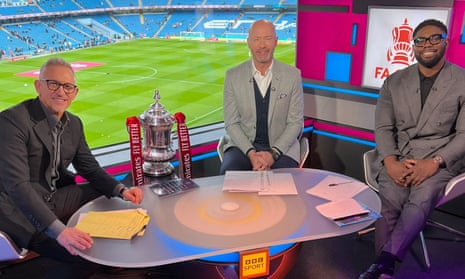 The stakes are high enough in an FA Cup quarter-final, but this is a showdown that once decided the identity of the champions of England. On a tense Monday night back in 1960, Burnley visited Maine Road to face Manchester City in the final game of the First Division season. Harry Potts' team needed a victory to pip reigning champions Wolverhampton Wanderers to the prize, and deny Stan Cullis's famous side a title hat-trick. Here's how that one panned out …
Brian Pilkington put Burnley in the lead after four minutes. Joe Hayes equalised for City soon after, only for 20-year-old reserve winger Trevor Meredith restored the visitors' advantage on the half hour, battering home a ball that had squirted out of a penalty-box melee. City had their chances to level up again: Denis Law missed a golden chance midway through the second half, while Alan Oakes shot straight at Clarets keeper Adam Blacklaw when one on one right at the very end. But that was that. Burnley were the champions! City finished 16th that season. Times change, huh.
City unsurprisingly make seven chances to the XI that started the 7-0 rout of RB Leipzig. Stefan Ortega replaces Ederson in goal, while John Stones, Nathan Ake, Manuel Akanji, Ilkay Gundogan, Jack Grealish and Bernardo Silva make way for Kyle Walker, Aymeric Laporte, Rico Lewis, Riyad Mahrez, Julian Alvarez and Phil Foden. Tuesday night's five-goal hero Erling Haaland keeps his place, along with the suddenly-back-in-form Kevin De Bruyne. It's not exactly your typical second-string FA Cup side, is it.
Burnley make three changes to the starting XI named for the 3-1 win at Hull on Wednesday night. Bailey Peacock-Farrell replaces Arijanet Muric in goal, while Ameen Al-Dakhil and Lyle Foster take the places of Hjalmar Ekdal and Ashley Barnes.
Manchester City: Ortega, Walker, Dias, Laporte, Lewis, Rodri, De Bruyne, Mahrez, Alvarez, Foden, Haaland.
Subs: Ederson, Phillips, Stones, Ake, Gundogan, Grealish, Gomez, Akanji, Palmer.
Burnley: Peacock-Farrell, Roberts, Al-Dakhil, Beyer, Maatsen, Cullen, Gudmundsson, Tella, Zaroury, Vitinho, Foster.
Subs: Muric, Taylor, Cork, Barnes, Twine, Bastien, Obafemi, Dervisoglu, Benson.
He's back! Yes, this afternoon Burnley manager Vincent Kompany returns to the Etihad, where he served as lynchpin of the Manchester City defence for 11 years, winning a dozen trophies, and where there's now a statue of him outside. But also …
He's back! Yes, this afternoon Gary Lineker returns to the BBC, from which he was briefly cashiered for the heinous crime of displaying some basic humanity, then being brazenly misrepresented by bad-faith actors.
Kick off at the Etihad is at 5.45pm GMT. The BBC's coverage begins at 5.25pm, soon after which we'll find out how strongly Lineker's opening gambit registers on the Lynam-approved shouldn't-you-be-at-work-o-meter™. Solidarity with Gary, Ian, Alex, Alan et al, not least for last Saturday's prime-time demonstration of the power in a union.