'It was ridiculous': does food TV show fame still matter for chefs? | Food TV
March 19, 2023
When the Hairy Bikers visited Lancashire's Parkers Arms to film the owners, Kathy Smith and chef Stosie Madi, making their acclaimed pies, Smith and Madi expected the show to gently boost trade. "Oh my God. Oh. My. God," says Madi, recalling the reaction when The Hairy Bikers Go North aired in September 2021. "Within seconds, there was a 75% bookings uplift. It was ridiculous. And it was like that for six months."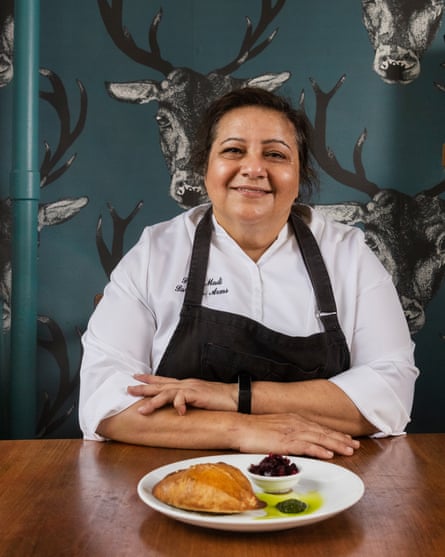 This was "a blessing" post-pandemic. But with only Madi and one assistant in the kitchen this rural pub had to "change our whole way of working. Otherwise, it would have been carnage. There's no way we'd have coped."
A shorter menu was introduced and the pace of service regulated by insisting booked tables take a three-course menu, to "massively" cap numbers and maintain quality. For a period, as so many guests wanted to eat Parkers' pies, particularly the mutton pie featured on the BBC Two show, staff had to ration them: one between two. "We'd have people going, 'We've travelled 200 miles to eat that mutton pie,' and we'd say, 'We're not a pie shop.' Mutton is not an overnight animal. The mutton is only on when the farmer says we've mutton ready. Also, the pie-making is a minimum one-week process. All we could do was have a variety of pies. We were like a machine."
Recent Hairy Bikers' programmes have consistently reached more than 1 million viewers, some peaking nearer 1.75m. The show's focus on Parkers' pies has, says Madi, "typecast the pub, but I'm not picky. It's about what makes the business work." Plus, "it converted customers who came for pie and had to eat other stuff. In that sense, it was amazing."
Madi entertained more film crews in January, when Parkers topped the annual list of Top 50 gastropubs. The 53-year-old is baffled by aspects of her celebrity and declines to meet guests who want to say hello. "I don't get it. You cook. It's your job. It's not some showbiz thing. I'll feed them the best I can. But there's no way I'm coming out to perform. I don't have time. I'm cleaning down."
Tommy Banks can "barely remember" his winning fish course from 2016's Great British Menu (GBM): "I've never cooked it again." He definitely recalls how overnight it filled every table at his previously "very, very quiet" Black Swan restaurant in Oldstead. "That's why chefs queue up to go on TV," he says. "It's your big break. It changed my life."
Chefs report similar results from Saturday Kitchen (average viewing figures, 1.2m) or guest slots on MasterChef and MasterChef: The Professionals (2.78m). In terms of generating new bookings, Daniel Clifford, chef-owner at Cambridge's two-Michelin-starred Midsummer House, says an appearance on James Martin's Saturday Morning (800k) "crashes the website every time I do it".
It has been years since these familiar programmes defined the food TV zeitgeist. Streaming, with shows such as Chef's Table and Ugly Delicious, has set a new cerebral standard while dramas The Bear or Boiling Point, now being adapted for TV, arguably offer greater insight into kitchen life. Yet 15 years after the Guardian declared GBM had "gone off the boil" it is still attracting viewers and filling restaurants.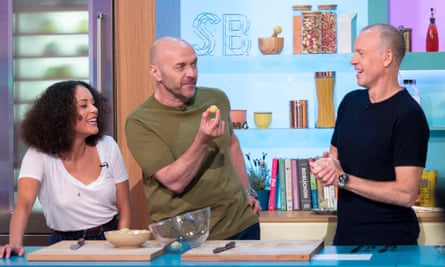 All TV exposure, even the most tangential, has a similar effect. Simon Rimmer, co-presenter of Channel 4's Sunday Brunch is aware that his "fame, for want of a better word" bolsters his Manchester restaurants, Greens. "If we want to boost a Tuesday night we'll do an evening with me – those sell out in 40 minutes." The three-Michelin-starred L'Enclume in Cumbria still fields requests for table three, as seen in Steve Coogan and Rob Brydon's The Trip in 2010.
The business rewards are manifest but how chefs navigate TV varies. A minority are eager to become TV presenters or want to create a personal brand to help generate income from cookbooks, consultancy, partnerships, high-end catering and personal appearances. Their agenda is very different to that of chefs keen to popularise their restaurant.
It is Martine Carter's job, as director of the management agency Sauce Talent, to target shows relevant to that chef's personality, skills and desired business outcomes: "It's an advisory role, as much as getting them on TV."
How much time a chef can devote to TV is a key consideration. A one-off guest cooking appearance may take a day or two of travel, rehearsal, filming and 6am starts. Dishes and recipes usually need to be agreed upfront to a loose brief, perhaps related to seasonality, a significant date or show theme, taking into consideration other guests' dietary requirements.
Such shows offer chefs significant support. On Sunday Brunch, home economists usually handle the ingredient prep and accompany chefs through an "as-live rehearsal". After, says a spokesperson, "the chef and home economists decide if any elements need to be streamlined so the recipe can be made in the allotted time".
Being the "talent" beats competing, says Banks. "People do things for you," he says. "You have a dressing room. No one's judging you. Lovely."
Within the industry, GBM enjoys a unique status as a show that makes careers. Like MasterChef: The Professionals, GBM recruits competitors through its own research rather than agents. It is where many chefs make their TV debut and a hardcore among its almost 2 million regular viewers are renowned for travelling travel around the UK to eat its winning dishes.
Benedict's chef-owner Richard Bainbridge recalls a table flying down from Edinburgh to his "little" restaurant in Norwich. Two of his dishes, a Jerusalem artichoke and lamb creation and a trifle, made GBM's winning banquet menu in 2015. "I joke that trifle bought my restaurant five times over. It's probably true. You still get it now. Customers come in and want pictures with you. They've been to Michael O'Hare, Lisa Allen, Matt Gillan. People are still going round."
Competing on GBM is a considerable undertaking. Winning chefs can end up filming in stages for about 12 days, and in preparation can spend many hours developing and honing their dishes. As in elite sport, says Banks, chefs are searching for "marginal gains" that might shave 30 seconds off a cooking process. "It takes over your life," he says. "You're thinking about it non-stop."
Will Lockwood, head chef at Banks's second restaurant, Roots in York, is in this year's GBM. What was Banks's advice? "Practise. Practise. Practise." And take familiar kitchen equipment with you, so you feel at home. "I'd even take my own pillow, so I'd have a better sleep."
"Chefs are completely insecure about who we are and what our food is," says Bainbridge. The scrutiny on a show such as GBM is intense, from its judges, peers in the industry and "millions of people who don't even taste your food but who are already making a judgment on who you are and what your food is." Bainbridge's first early exit from GBM in 2010 left him "devastated". He returned four years running before producing his winning dishes.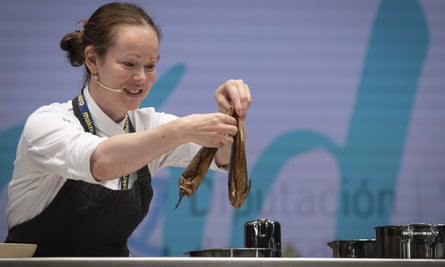 Naturally, certain TV formats suit certain chefs better than others. Roberta Hall-McCarron, chef-owner at Edinburgh's Little Chartroom, created a winning dish on 2021's GBM, but is "not ready for live TV. I might crumble".
Conversely, Manchester chef Mary-Ellen McTague is open to most TV work but found the stress she put herself under doing GBM too much. "I barely slept for the month before," she says. A competitor in 2013 and 2014, she was also "too embarrassed to do all that, 'I'm gonna give 100%; I'm going all guns blazing.' It's not me. I couldn't put up some bullshit bravado. When I'm busy, I quietly focus. I made really bad TV."
Coming across well on TV requires technique as well as temperament. Carter has newbies practise cooking while being filmed, timed and interrogated by family and colleagues. "They have to be able to cook at the same time as answering questions and look comfortable," she says.
Having nailed those skills, you must also be able to handle your newfound fame. Hall-McCarron describes her GBM experience as really positive. Her partner, who handles the Little Chartroom's social media accounts, quickly learned not to read out a minority of negative comments. "Watching the show, I'd generally have a strong drink and he wasn't allowed to speak," she says, half jokingly. It was "odd but nice" to hear people cheering her as they walked past the Little Chartroom or guests coming up to its open kitchen to offer their congratulations. Even so, says Hall-McCarron, "I never quite know what to do in those situations."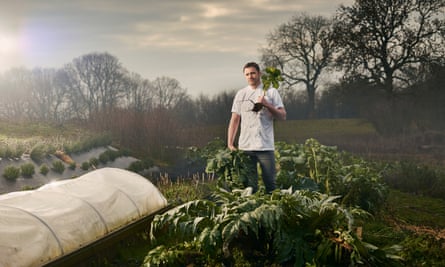 The sudden attention is bewildering, says Banks, describing waking up to thousands of notifications on his phone. He deleted his personal Facebook profile early on in his rise as a recognisable face "because I was getting bothered by people". (His marketing team now runs one for him.)
Attacks and abuse? "No, more the other way, but it's all unwanted attention. Some of the stuff I got sent in the post was very strange. Nothing like this happens any more because I've aged 10 years."
Chefs also have to wrestle with what to do with their hit TV dishes. Showstoppers designed to impress judges and guests at a televised banquet can prove impractical in a restaurant. Daniel Clifford's 2013 GBM winning dessert, Going Out With A Bang, included a balloon filled with pineapple essence, popped at the table. "You can't do that at 1.30pm on Tuesday afternoon when some people are on their canapes."
Some find it stifling to keep in-demand dishes on the menu. Hall-McCarron attempted to draw a line under GBM by serving all her dishes from the 2021 series for one week only. "I don't want to be defined by it. Our menu's small. We like to change it."
About a year after 2008's GBM, Glynn Purnell snapped and took his winning burnt English custard off the menu. "I'd had enough. It was all anyone was interested in," he told Restaurant magazine in 2017. Faced with angry, disappointed diners, Purnell soon relented. This eye-catching dessert, an eggshell of custard and various seasonal accompaniments, has now been served an estimated 150,000 times at his Birmingham restaurant and at private catering events.
At Benedict's, Bainbridge embraced the fate GBM dealt him. His winning dishes reappear on its menu periodically. "When the Norfolk raspberries and strawberries are bang on, the trifle showcases that fruit fantastically," he says. That dish's aesthetic of "nostalgia and comfort" has also moulded how Bainbridge's food has evolved creatively since then.
"There were moments I wanted to get rid of the trifle. But it's like our greatest hits. If Elton John did a concert and didn't do Rocket Man people would be disappointed. Customers still ask for the trifle. In a business sense, you'd be stupid not to give them what they want."
Great British Menu is on BBC Two this week, Tue-Thurs, 8pm