Lance Franklin and Kysaiah Pickett offered bans for crude bumps, Shane McAdam under scrutiny
March 19, 2023
Match review officer Michael Christian classified Pickett's rough conduct charge as careless conduct, high impact and high contact.
Christian's high-impact call was critical to the finding, given Smith quickly bounced to his feet, avoided an injury and played the match out.
Pickett could have escaped with even a fine in the scenario the impact was judged to be low, and typically cases where a bump does not cause injury are graded no worse than medium impact.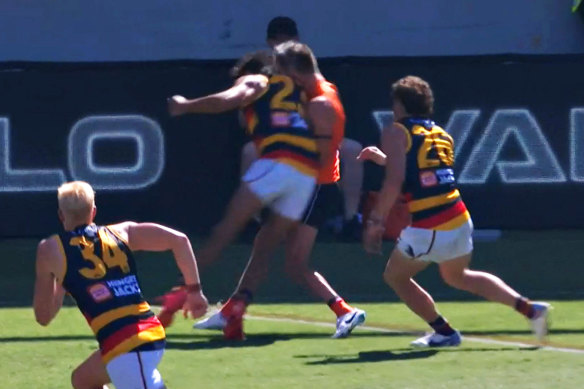 But the "potential to cause serious injury" clause enabled Christian to grade the second quarter incident as high impact, with Pickett leaving the ground to deliver a massive hit at high speed. Bulldogs fans showered Pickett with boos for the rest of the night.
It was always unlikely that Pickett and Franklin would avoid a ban as the AFL faces a series of concussion class actions, and while the topic of brain injuries becomes increasingly prominent.
Loading
However, Jimmy Bartel, who was previously on the match review panel, had warned earlier on 3AW that Pickett's sanction, and other incidents like it, could be "something we don't want" due to the AFL's rigid table of offences.
"I think the issue we've got for Michael Christian, being the match review officer, is he has a table of offences he has to plug it into," Bartel said.
"There are some people in the media who don't actually take the two minutes to understand the table of offences, so they yell and scream to be heard, 'That should be four weeks, that should be three weeks'.
"Michael Christian can't work backwards. He can only work from left to right, so when we plug it in, sometimes the result spits out something we don't want.
"These two instances [Pickett and Franklin], in particular; you could make arguments for a fine, [even though] the temperature at the moment is we have to protect the head."
Concussion is the biggest issue in the game as a growing number of players reveal the post-football struggles they are dealing with, and is set to be debated in court.
North Melbourne ruckman Todd Goldstein said players were aware of the risks they faced in a non-contact sport but also had a greater understanding of the potential future problems.
"I think playing a contact sport; you're moments away from something happening to end your career, so you do understand that risk," Goldstein said.
"Players are getting better at being honest about what happened – that's why it was so muddy in the past – because you're almost lauded for lying about what symptoms you're experiencing, and playing down how you felt.
Loading
"Whereas now, I reckon, there's a much more honest conversation about how you're actually feeling, and I'm seeing players put their hand up, and saying, 'I have a headache' or 'I'm feeling fuzzy' and that ruling them out."
West Coast's Tom Barrass and Port Adelaide's Darcy Byrne-Jones can accept a $2000 and $1000 fine, respectively, with an early guilty plea for striking Kangaroo Charlie Comben and tripping Lion Zac Bailey.
Keep up to date with the best AFL coverage in the country. Sign up for the Real Footy newsletter.