Erling Haaland: Man City striker tops Premier League scoring chart but how many goals could he score this season? | Football News
January 27, 2023
Erling Haaland would finish the season on 63 goals if Manchester City reach all finals and he maintains his current strike-rate and game time.
However, the Norwegian could score even more, having only appeared in 68 per cent of available minutes across all competitions since the Premier League kicked off.
He could net 80 goals – if he played every minute of every game during the remainder of the season.
Watch Erling Haaland's 25 Premier League goals for Manchester City, including his four hat-tricks at the Etihad

Haaland scored a hat-trick against Wolves on Sunday, extending his league tally to 25 in just 19 appearances – overtaking the 23 scored by last season's Golden Boot winners Mohamed Salah and Heung-Min Son.
FREE TO WATCH: Highlights from Manchester City's win against Wolves in the Premier League

Additionally, the 22-year-old's four Premier League hat-tricks during that period sets a new record in the competition – smashing Ruud van Nistelrooy's four trebles achieved in 65 games.
Pep Guardiola says he hopes Erling Haaland will continue his incredible form after the Manchester City striker scored his fourth Premier League hat-trick

So how does Haaland score his goals and how can opponents stop him?
Hitman Haaland
Despite his record-breaking returns, the towering frontman has only clocked 86 per cent of game time in the Premier League, 46 per cent in the Champions League, 40 per cent in the Carabao Cup and is yet to appear in the FA Cup.
Currently, Haaland is averaging at 1.45 goals per 90 minutes in the Premier League – more potent than any other player in Europe's top five leagues this season to have played in excess of 377 minutes.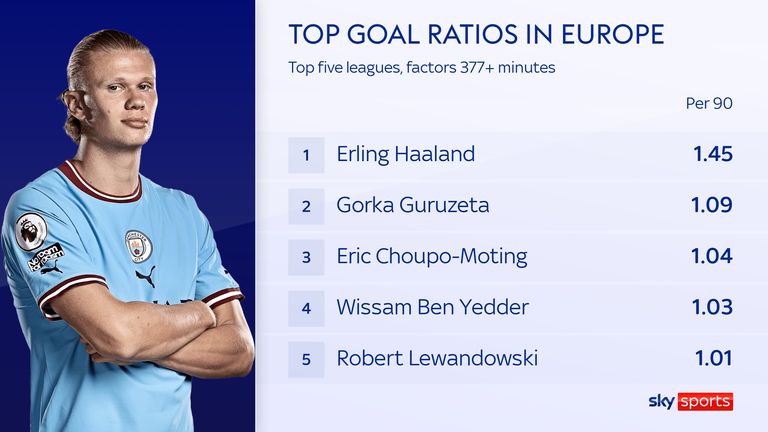 The chart below plots goals and expected goal returns for all Premier League players this season and presents the scale of the striker's early form – soaring clear in both categories.
Erling Haaland scored his fourth Premier League hat-trick in Manchester City's 3-0 win over Wolves, the Norwegian striker now has 25 League goals

Several forwards from opposition teams are in consistent form, most notably Harry Kane – but Haaland is doubling, and humbling, the England striker's figures.
Expected goals explained
Expected goals (xG) calculates how many goals a player should have scored, based on the quality of chances presented to them.
A shot from 8 yards has a higher xG value than a shot from 18 yards
A shot taken by the foot has a higher xG value than a header
A shot directly in front of goal has a higher xG value than a shot from a tight angle
Some critics might claim any established forward would convert bags of goals in Pep Guardiola's side, based on the sheer quantity of clear-cut chances they create.
This week's Gillette Precision Play is Erling Haaland's crucial equaliser against Tottenham at the Etihad

However, the Norwegian has also exceeded his expected-goal (xG) returns considerably, netting eight goals more than the 16.91 expected from chances presented to him – another league-topping ratio.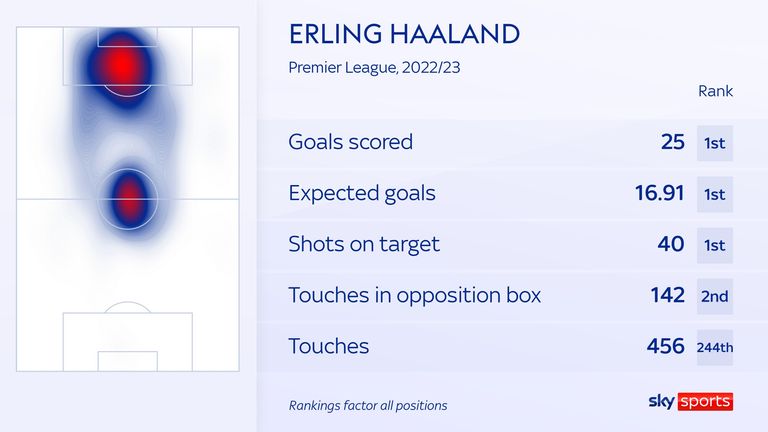 Additionally, Haaland has fired a league-high 40 shots on target, which means his current goal haul equates to one goal from every 1.6 shots on target – underlining the clinical finishing to date.
Key to stopping Haaland?
The shot map below highlights City's No 9 has converted almost all of his goals from the central third of the opposition box, between the goal line and penalty spot.
In terms of shot placement, Haaland has an almost perfect conversion rate when firing low, to the left side of the goal – netting nine of his 11 shots on target – and scores with around half of his attempts in the centre of the goal and to the right.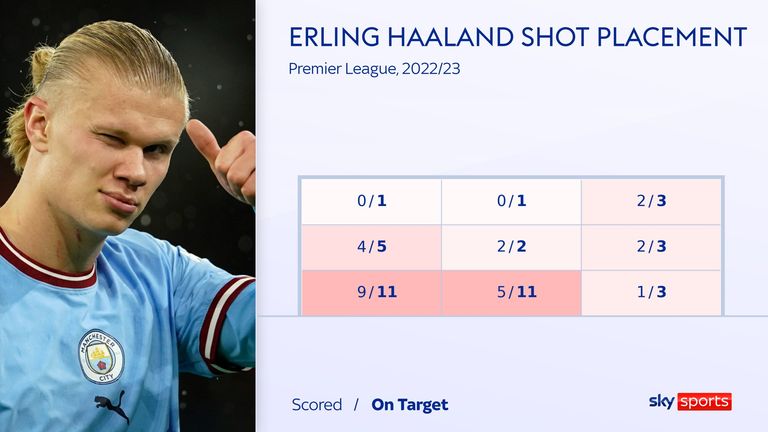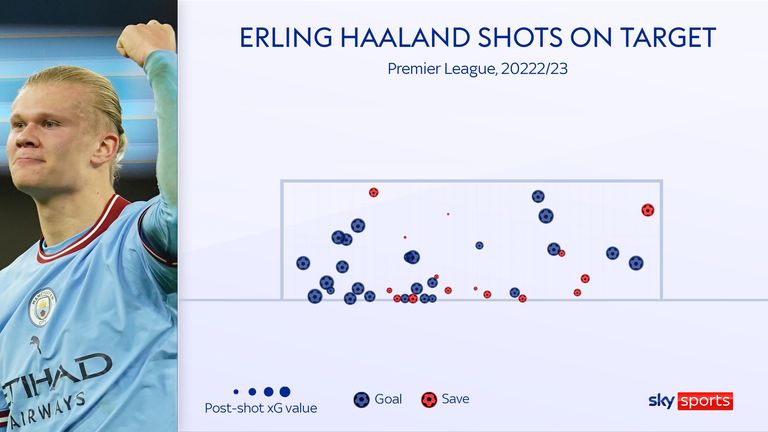 Haaland appears to be genuinely unstoppable when in full flow. His acrobatic and aerial ability, coupled with physical height, power and speed, is defying all attempts to nullify his powers – despite opponents being aware of his primary threat down the left-of-centre channel.
All-round game
Haaland had registered three league assists this term, which is the his joint-lowest ratio since joining Borussia Dortmund in 2019. Kevin De Bruyne (11), Bernardo Silva (five) and Rodri (four) have all clocked more for City this term.
However, he averages far fewer touches, dribbles and final-third passes than other forwards – a trade-off for his prolific strike-rate.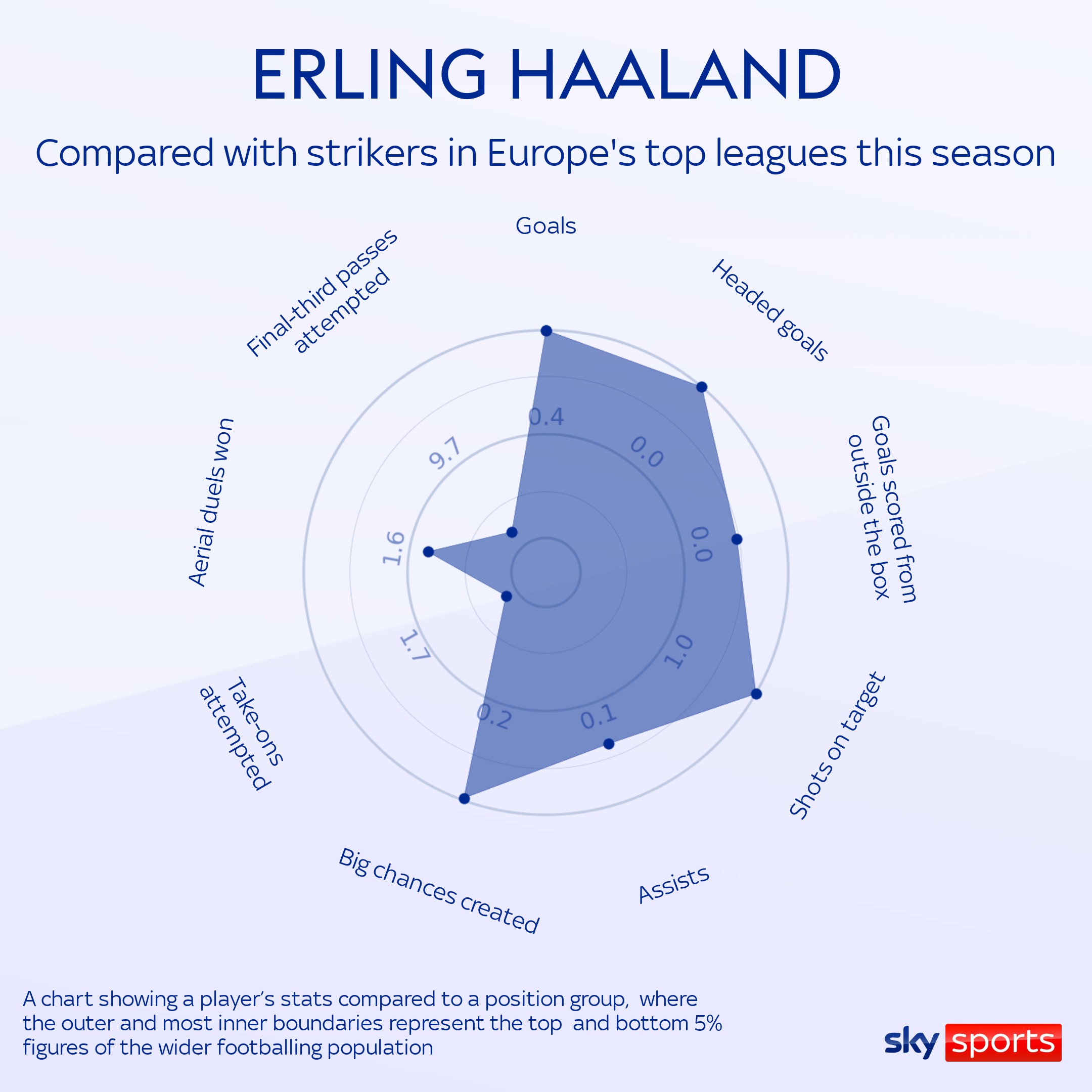 Haaland registered merely eight touches in 74 minutes against Bournemouth in August and has clocked fewer than 25 touches in more than half of his league appearances – averaging at 18 touches per goal, which equates to scoring a goal in five per cent of his overall actions on the ball.
In terms of passing, the striker tends to drift and combine with team-mates across the width of the penalty box, with a higher concentration of exchanges down left-of-centre areas – while creating his most potent chances from central areas, just outside the box.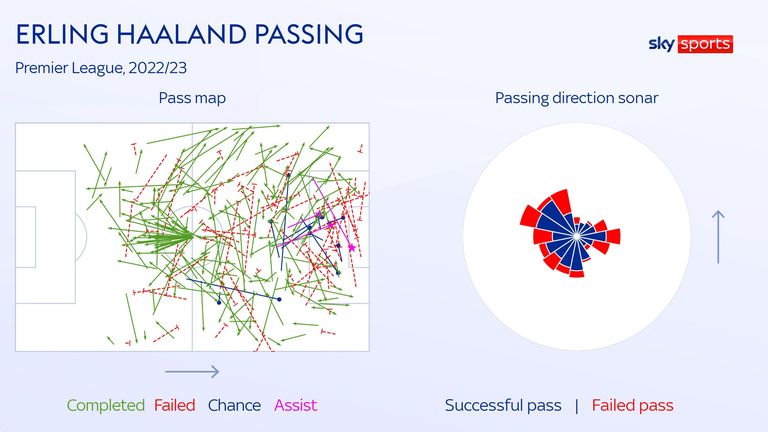 Have City changed to accommodate Haaland?
Gary Neville says that Erling Haaland may not be the exact fit for Manchester City's playing style but he wouldn't swap him for any other striker

The graphic below shows how Haaland averages in a similar position to the false nine last term, although this is based on his limited touches, and suggests De Bruyne is holding his advanced position this term, while almost all other outfield players have retreated, albeit marginally.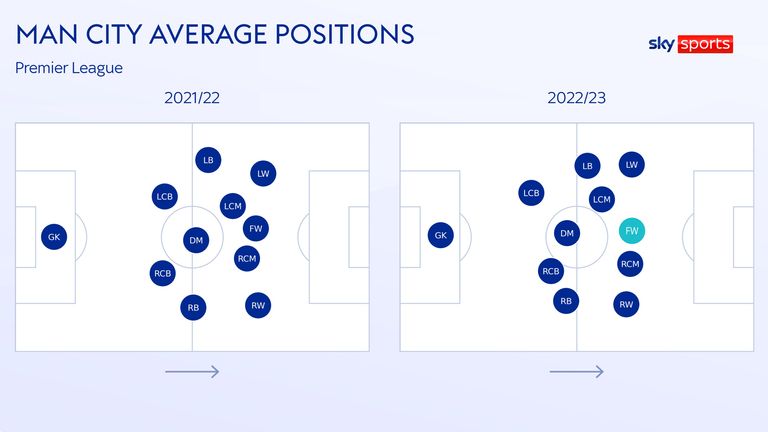 In terms of raw attacking numbers, City are scoring an identical number of goals per game as they did last term but are clocking fewer shots on target and xG. So, City are no more potent this time out – despite Haaland's record-breaking returns.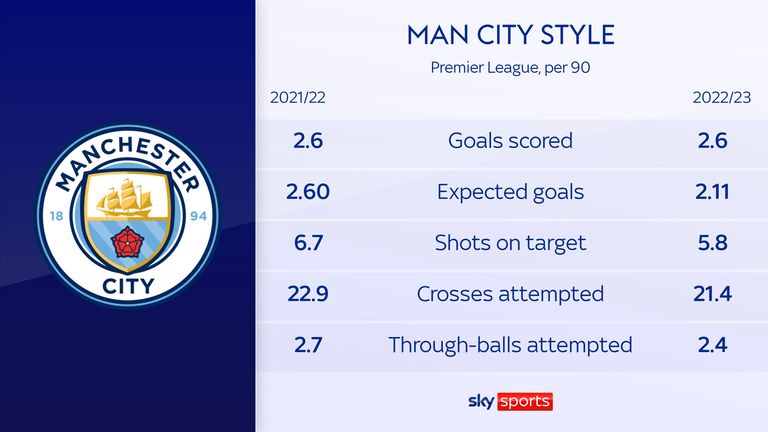 Interestingly, City are also firing fewer crosses and through-balls per game this season – two metrics many might expect to increase, to accommodate and serve Haaland.
City have dropped points in six of their 20 league games this term – losing three and drawing three – which, ordinarily, would almost certainly guarantee a table-topping standing – but Guardiola's side now sit five points shy of Arsenal – with the Gunners also having a game in hand.
While City's title hangs in the balance, Haaland's current goal-rate sets him on course to finish the season out on his own with a record-breaking 48 league goals – but there is a growing sense he will rewrite the record scales entirely.
Jamie Carragher believes Manchester City are a different prospect with Erling Haaland in the side, but his arrival was never guaranteed to win them the title.

Golden Boot record-breakers
Mohamed Salah broke the record for most goals in a 38-game Premier League season in 2017-18, we take a look at all of his strikes including some spectacular solo goals

Scoring a staggering 34 Premier League goals in the 1994-95 season, we take a look at all the strikes from Alan Shearer's record-breaking campaign

Scoring a staggering 34 Premier League goals in the 1993-94 season, we take a look at all the strikes from Andy Cole's record-breaking campaign