Captain Grace Scrivens one of three England players in team of ICC Under-19 T20 World Cup | Cricket News
January 31, 2023
England captain Grace Scrivens is one of three players from her side named in the ICC Team of the Tournament following the inaugural Women's Under-19 T20 World Cup.
Player of the Tournament Scrivens was the second-highest run-scorer in the competition with 293 across her seven innings, including three fifties and the best individual score of 93 off 56 balls against Ireland.
The 19-year-old also picked up nine wickets as she led England to the final with six straight wins before they lost to India in Sunday's title game in Potchefstroom.
​​​​​​​Scrivens is joined in the XI by leg-spinner Hannah Baker and fast bowler Ellie Anderson, who claimed 10 and eight wickets respectively for the tournament runners-up.
Baker's 3-10 in the semi-final victory over Australia helped England defend a score of just 99, while Anderson was one of only two bowlers to take a five-wicket haul after claiming 5-12 against West Indies in the Super Six.
ICC Team of Women's Under-19 T20 World Cup
Grace Scrivens (England, captain), Shweta Sehrawat (India), Shafali Verma (India), Georgia Plimmer (New Zealand), Dewmi Vihanga (Sri Lanka), Shorna Akter (Bangladesh), Karabo Meso (South Africa, wicketkeeper), Parshavi Chopra (India), Hannah Baker (England), Ellie Anderson (England), Maggie Clark (Australia)
Scrivens' England side were dismissed for just 68 in the final before India – captained by senior team regular Shafali Verma – reached their target with six overs to spare to become the first Indian women's team to win an ICC event.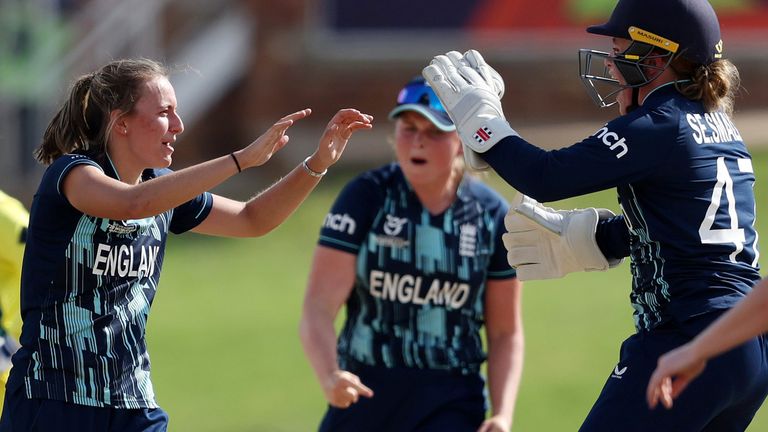 Speaking afterwards, Scrivens said: "As a team we've learned so much, the way we fought in the semi-final was unbelievable.
"I think the fight shown by every single one of us was great and also being out in South Africa, learning about conditions, playing abroad. That's just going to give us more experience and improve our career and future."
"We are gutted with the way the final went. Our batting let us down hugely. We have been so good going hard at bowlers, but we couldn't do that. We tried to be fearless but it didn't come off."
England Women watch on ahead of their World Cup campaign
England Women's senior team are also in South Africa ahead of the T20 World Cup next month and travelled to Potchefstroom on Sunday to watch the U19 final.
Heather Knight's squad will be aiming to win the T20 World Cup for the first time since 2009, having lost to Australia in the 2012, 2014 and 2018 finals.
England begin their campaign against West Indies on February 11 before further group games versus Ireland (February 13), India (February 18) and Pakistan (February 21).
The semi-finals take place on February 23 and 24 ahead of the final on February 26.
Women's T20 World Cup – full fixture list (all times UK and Ireland)
All games live on Sky Sports
February 10 – South Africa vs Sri Lanka, Cape Town (5pm)
February 11 – West Indies vs England, Paarl (1pm)
February 11 – Australia vs New Zealand, Paarl (5pm)
February 12 – India vs Pakistan, Cape Town (1pm)
February 12 – Bangladesh vs Sri Lanka, Cape Town (5pm)
February 13 – Ireland vs England, Paarl (11am)
February 13 – South Africa vs New Zealand, Paarl (5pm)
February 14 – Australia vs Bangladesh, Gqeberha (5pm)
February 15 – West Indies vs India, Cape Town (1pm)
February 15 – Pakistan vs Ireland, Cape Town (5pm)
February 16 – Sri Lanka vs Australia, Gqeberha (1pm)
February 17 – New Zealand vs Bangladesh, Cape Town (1pm)
February 17 – West Indies vs Ireland, Cape Town (5pm)
February 18 – England vs India, Gqeberha (1pm)
February 18 – South Africa vs Australia, Gqeberha (5pm)
February 19 – Pakistan vs West Indies, Paarl (1pm)
February 19 – New Zealand vs Sri Lanka, Paarl (5pm)
February 20 – Ireland vs India, Gqeberha (1pm)
February 21 – England vs Pakistan, Cape Town (1pm)
February 21 – South Africa vs Bangladesh, Cape Town (5pm)
Knockout stage
February 23 – First semi-final, Cape Town (1pm)
February 24 – Second semi-final, Cape Town (1pm)
February 26 – Final, Cape Town (1pm)
Both semi-finals and the final have reserve days