The sepia lithograph in the National Library was irresistible to the novelist in Robert Drewe. Painted in 1866, a tiny boy in red shorts leans against a milestone on a winding English country road. On the milestone is a winner's sash. John Day was the "Child Phenomenon from Australia".
He was 10 years old, weighed four stone and was undefeated juvenile world champion in the wildly popular 19th century spectator sport of "pedestrianism": gruelling long-distance competitive walking. "He was the youngest world champion ever," recalls Drewe.
His interest was piqued, so he kept digging. It turned out that while Day was still a child, he also became an apprentice jockey, and in 1870 – at the age of 14 – he won the Melbourne Cup on a bay gelding called, of all things, Nimblefoot. "I thought, 'This is extraordinary! Why hasn't anyone heard of him?'"
The author of The Drowner, The Rip and The Bodysurfers, Drewe, 79, is one of Australia's most highly decorated writers, whose work has been adapted for film, TV, stage and even song (Paul Kelly based Our Sunshine on Drewe's novel of the same name).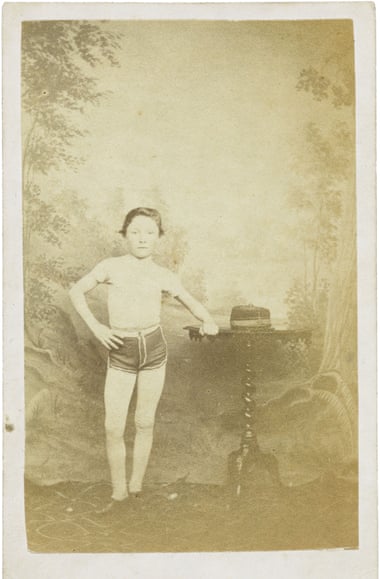 In Day, Drewe had found his next novel – but research into the boy's life after his glory in two sports proved fruitless: the "Child Phenomenon from Australia" had disappeared from history. "So I decided I wanted to make up an imaginary life for him," he says. "So I did."
Although it is a vastly different novel, Drewe's Nimblefoot does share a conceptual similarity to another recent Australian release: Michael Winkler's Grimmish, which this year became the first self-published book to be shortlisted for the Miles Franklin. Both detail the punishing lives of unlikely sporting heroes around the turn of the century in Australia, blending fact and fiction and powerful, fragmented images – with a lot of humour in there too.
In Australian Book Review, Winkler described Nimblefoot as a "book of abundance … every detail is detailed, every particular is particularised". To the Guardian in a later phone call, he described Nimblefoot as "a wild thing".
Winkler first read Drewe as a young teenager. "He is the most versatile and prolific writer of his generation, and an indispensable chronicler of his times," he said. "He has consistently been ahead of the curve."
But unlike Winkler, Drewe has never been listed for Australia's most important literary prize. "The Miles Franklin judges obviously decided long ago that I was never going to be granted parole," he notes drily.
*
We meet at Drewe's home in the New South Wales northern rivers region, which is in some disarray. He was at his other home, in Western Australia, when the February floods hit, and this house had been inundated – before sitting in stagnant water for three months. When he opened the door he was "met by this extraordinary smell. The mould up the wall was like a living creature, like something from an alien movie." His archives and research documents, and all his own published books, were pulp.