The devastating intensification of extreme weather is laid bare today in a Guardian analysis that shows how people across the world are losing their lives and livelihoods due to more deadly and more frequent heatwaves, floods, wildfires and droughts brought by the climate crisis.
The analysis of hundreds of scientific studies – the most comprehensive compilation to date – demonstrates beyond any doubt how humanity's vast carbon emissions are forcing the climate to disastrous new extremes. At least a dozen of the most serious events, from killer heatwaves to broiling seas, would have been all but impossible without human-caused global heating, the analysis found.
Most worryingly, all this is happening with a rise of just 1C in the planet's average temperature. The role of global heating in supercharging extreme weather is happening at "astonishing speed", scientists say.
"The world is changing fast and it's already hurting us – that is the blunt summary," said Prof Maarten van Aalst, the director of the International Red Cross Red Crescent Climate Centre. The world is currently on track for a rise of at least 2.5C. Based on what we have experienced so far, that would deliver death and destruction far greater than already suffered.
The studies analysed used a scientific technique called attribution to determine how much worse, or more likely, an extreme weather event was made by human-caused global heating. The technique's power is in drawing a direct link between the disasters that people suffer through and the often abstract increase in atmospheric greenhouse gases caused by the mass burning of fossil fuels since the Industrial Revolution. It brings the scientific reality of the climate crisis crashing home.
The climate information website Carbon Brief compiled a new database of attribution studies of more than 500 events – every such study available – and shared it exclusively with the Guardian. The analysis of the database and interviews with the world's leading attribution scientists shows beyond any doubt that we are already deep into the era of climate death and destruction.
---
The key findings
The 12 events deemed virtually impossible without humanity's destabilisation of the climate span the globe, including intense heatwaves in North America, Europe and Japan, soaring temperatures in Siberia and sweltering seas off Australia.

Seventy-one per cent of the 500 extreme weather events and trends in the database were found to have been made more likely or more severe by human-caused climate change, including 93% of heatwaves, 68% of droughts and 56% of floods or heavy rain. Only 9% of the events were less likely, mostly cold snaps and snowstorms.

One in three deaths caused by summer heat over the last three decades was the direct result of human-caused global heating, implying a toll of millions.

Huge financial costs are also now attributable to human influence on the climate, such as $67bn of damages when Hurricane Harvey smashed into Texas and Louisiana in 2017, which was 75% of the total damages from the storm.

Global heating has been hurting us for far longer than commonly assumed, with traces of its influence as far back as the heatwaves and droughts that triggered the infamous Dust Bowl in the US in the mid-1930s.
---
Bad Neuenahr-Ahrweiler, Germany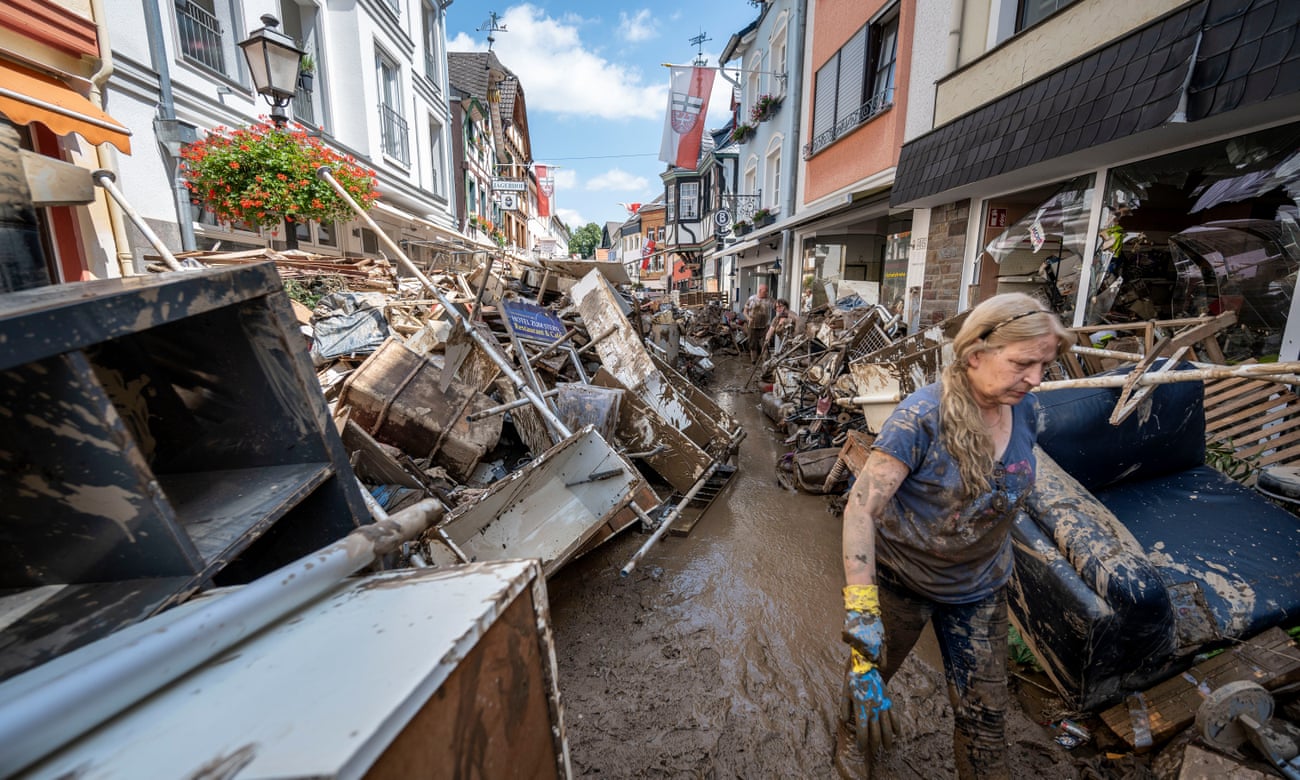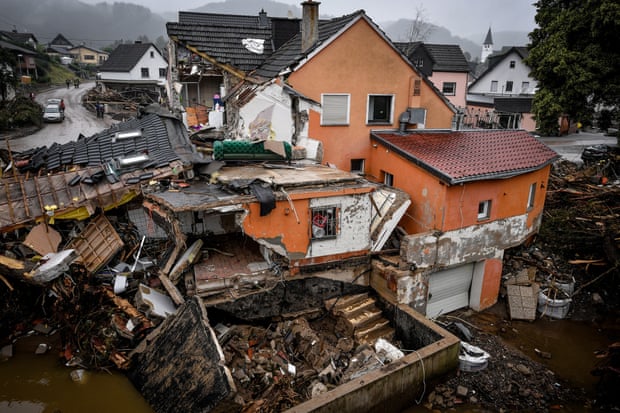 ---
'We are in the era of [climate] damage and we have been for decades," said Dr Fredi Otto, of Imperial College London. "This is what we see strongly in the science, but it's not reflected in the policies."
This mapping and analysis of climate catastrophes has never been more relevant. Already in 2022, the climate crisis has rampaged around the planet, bringing the reality of global heating into the homes of billions and to the top of news bulletins. Record-breaking heat has hit North America, Europe, China, India and Pakistan, sparking wildfires in many places. Terrible floods have swept Australia, Bangladesh and South Africa. In due course, scientists will firmly link many of these to global heating, as they did for the fiery northern hemisphere summer of 2018.
But with a crunch UN climate summit in Egypt in November fast approaching, the urgency of the situation is already clear. The goal of limiting heating to 1.5C was "on life support" with a weakening pulse, said the UN general secretary, António Guterres, in July. Without very rapid action to slash carbon emissions – by 50% by 2030 – far worse extreme weather will ensue.
"Gone are the days when global heating was in the future," said Christiana Figueres, the former UN climate chief who delivered the 2015 Paris climate deal. "Human-induced heating is wrecking lives and livelihoods today. Every day of higher emissions increases human poverty and misery. Continuing on the path of rising emissions is senseless, selfish and avoidable."
Mitzi Jonelle Tan, a youth activist and survivor of the super typhoons that have hit the Philippines, said: "These studies are proof that what is being done is nowhere near enough. This is a life and death situation."
There is no time to waste, says Prof Bill McGuire, at University College London: "What is astonishing is the speed with which global heating is translating into a hike in the frequency and intensity of extreme weather when the average temperature of the planet is up by just a little more than 1C."
Attribution studies have so far assessed only a small fraction of extreme weather events, with particularly concerning gaps in the global south, which is least responsible for the climate crisis but home to many of the people most vulnerable to its effects.
But the following is what we know for sure about how much human-caused climate change is to blame for supercharging extreme weather, where it has already hit, and what it has cost us in lives and damage. It is a sobering reckoning of how deeply the climate crisis has already cut into societies and how desperate the need is to stop further deterioration.
---
Finding the footprint
The fact that global heating drives more extreme weather is no surprise, even if the pace of change is shocking. Greenhouse gases pumped into the atmosphere by human activity trap more of the sun's heat, putting more energy into weather systems, worsening their impacts.
Scorching heatwaves are the most obvious manifestation, and can also set forests ablaze. Hotter air can hold more water vapour – about 7% more per 1C rise – which means more intense downpours and greater floods. The oceans absorb most of the planet's trapped heat, and warmer seas fuel more powerful hurricanes and typhoons. Those heated waters also expand, pushing up sea level and enabling storms to crash further inland.
The question the world's scientists are tackling is to what extent human-caused global heating is to blame for a particular extreme weather event as opposed to natural variability in weather patterns.
Scientists calculate this by using weather records and computer models to compare two worlds. One is the world we are in, heated by our carbon emissions. The other is the world before the mass burning of fossil fuels and rising temperatures. Researchers assess how frequent a specific extreme weather event is in both worlds. If it is more intense or more frequent in our heated world, then the footprint of global heating is clear.
---
Jacobabad, Pakistan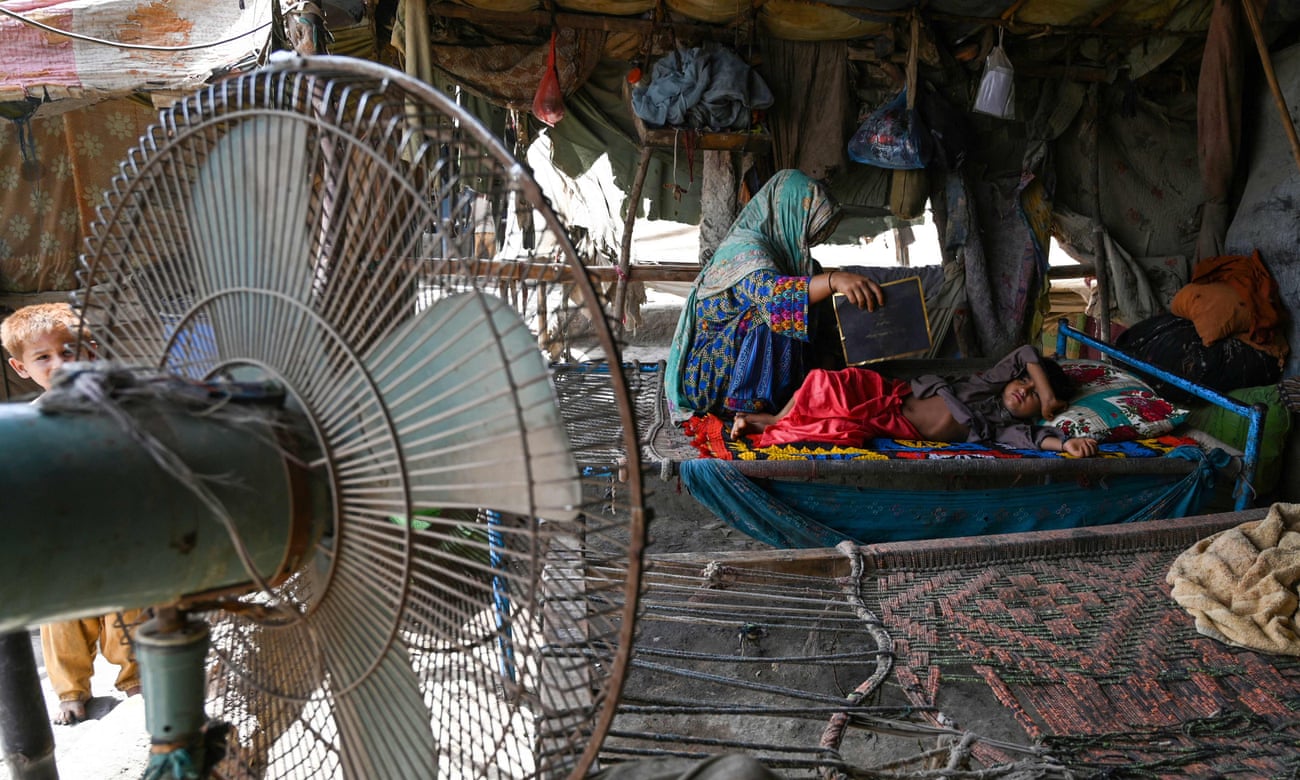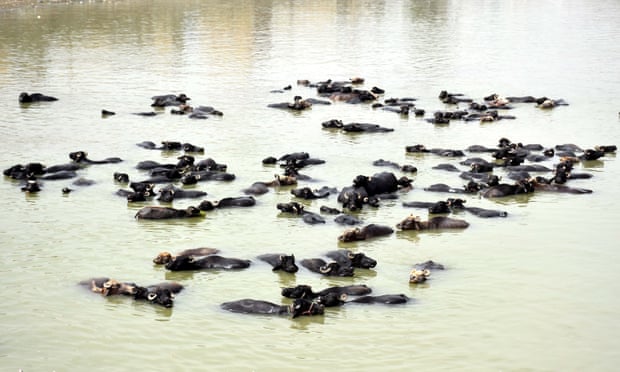 ---
The impossibles
The most striking single finding of the Guardian analysis of the attribution studies is the identification of at least a dozen major extreme events that would have been wildly improbable without human-caused global heating.
"Now, suddenly, we're seeing the [climate] boundaries have been pushed out so far that we can say, essentially, these events would not have happened without climate change," said Van Aalst. "Frankly, I've been surprised by how often that's already been the case."
The ferocious "heat dome" that struck the Pacific north-west region of North America in 2021 would have been "virtually impossible without human-caused climate change", scientists found. Otto said: "It broke records by 5C and really brought home to me that something that was impossible from a statistical point of view can now happen as a new extreme. That is scary."
Yet this once unimaginable calamity would be expected every 10 years on average if the world heats to 2C, Otto said. Her fear is that action to protect people from extreme weather normally uses past disasters as a guide – an approach that is useless if the new extremes are far worse. "It's really hard if you have never experienced anything even remotely like it."
The searing summer of 2018 saw simultaneous heatwaves stretch across the northern hemisphere from the US to Japan, and bears a striking resemblance to the events unfolding in 2022. "It is virtually certain the 2018 events would not have occurred without human‐induced climate change," scientists found. Even six years ago, in 2016, the "extreme warmth across Asia would not have been possible without climate change", another study found.