Pakistan v England: first men's T20 cricket international – live
September 20, 2022
Yes James Walsh. I am very much enjoying the 90s gameshow/Eurotrash feel to these:
Speaking of which…
No messing about, the players are straight back out there. Hales and Salt to open up for England. Naseem Shah to send down his thunderbolts. Play!
A highly eventful final over from Luke Wood, his first ball is crunched for six over mid-off by Iftikhar. The batter tries again with the very next ball but doesn't quite get enough of it – Ben Duckett displaying some nifty footwork on the boundary edge to cling onto the catch. Naseem Shah comes to the crease and gets a top edge to Sam Curran at fine leg to give Luke Wood two wickets in the final over, he finishes with 3-24 from his four overs, a fine performance on daybooo.
19th over: Pakistan 150-5 (Iftikhar 22, Khushdil 3) Sam Curran to bowl out. His first ball is a disaster, the ball slipping from his hand like greased up Imperial Leather (other soaps are available, I think) and marmalised for SIX over fine leg. Curran manages to respond well and gets out of the over for the cost of just three more. Final over coming up – debutant Luke Wood entrusted.
18th over: Pakistan 141-5 (Iftikhar 14, Khushdil 2) Wood gets the wicket and bowls a miserly over for his captain too. Just four runs from it. Pakistan have slowed right down after coming out in a blaze of strokes at the top.
A first T20I wicket for Luke Wood and an emphatic one! A quicker ball scuds past Nawaz's lofty drive and into the stumps – sending the timbers cartwheeling! The debutant leaps in the air and is mobbed by his teammates. A nice moment.
17th over: Pakistan 137-4 (Iftikhar 12, Nawaz 4) Iftikhar slots David Willey over long on for SIX! That helps the run rate. A protracted over as Willey sprays down a couple of wides and Pakistan rotate strike. 12 runs from it in the end. Three to go.
16th over: Pakistan 125-4 (Iftikhar 4, Nawaz 2) Mohammad Nawaz is the new batter for Pakistan. Rashid limits the home side to five runs from the over and finishes his set of four overs with 2-27. Tidy.
A tame reverse-sweep from Masood loops straight to Gleeson on the '45. The Pakistani wickets keep tumbling.
Rizwan gone! Moeen saw him advancing down the track and speared the ball in shorter. The opener played his cards too soon and is left floundering. Salt whipping off the bails quick smart. Pakistan stuttering here and they've lost their 'in' batter.
Iftikhar Ahmed is the new batter and he's very nearly stumped off a wide from his first ball! Slightly dopey cricket all round. Spin making things happen more than seam on this surface, Pakistan will have clocked that.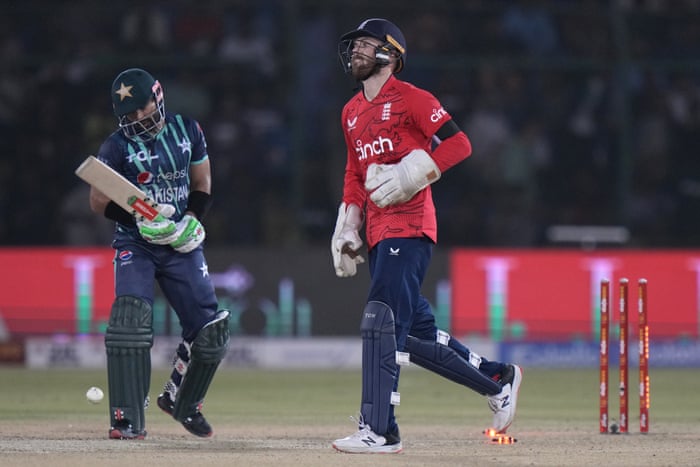 15th over: Pakistan 120-3 (Masood 1, Iftikhar 1)
14th over: Pakistan 110-2 (Rizwan 66, Masood 1) Shan Masood comes to the crease on debut. He blocks out his first two balls before getting off the mark with a single into the covers. He's an opener by trade, it'll be interesting to see how he goes with Pakistan expecting pedal to the metal from the get go. Six overs to go.
As you may have guessed from the heavily loaded ellipsis… England have another wicket. Haider Ali smiting curran high into the Karachi night but not quite getting it far enough, Willey taking a safe catch on the boundary edge. England creeping back into this in the last couple of overs.
13th over: Pakistan 107-1 (Rizwan 65, Ali 10) Willey returns and tightens things up a smidge, just three runs off the over – a cunning mix of slower balls and yorkers doing the business. Will the pressure lead to a mistake…
12th over: Pakistan 104-1 (Rizwan 64, Ali 8) Rizwan drops to his haunches and smears Rashid over mid-wicket for SIX! He's eyeing up a big score here. 11 runs from the over. Pakistan ticking over at just under nine an over and they've got a big engine room sitting idle in the dugout. They'll want close to 200 on this surface and with this platform.
11th over: Pakistan 93-1 (Rizwan 56, Ali 5) More singles than an 18-30 holiday to Kavos. Well, six. Richard Gleeson returns and keeps a lid on things with a barcode over.
10th over: Pakistan 87-1 (Rizwan 53, Ali 2) Haider Ali the new batter and Rashid has his dander up after that golden dismissal. Ali clips for two but it's England's over – just four runs and a wicket off it. We're halfway through the innings, time for a drink.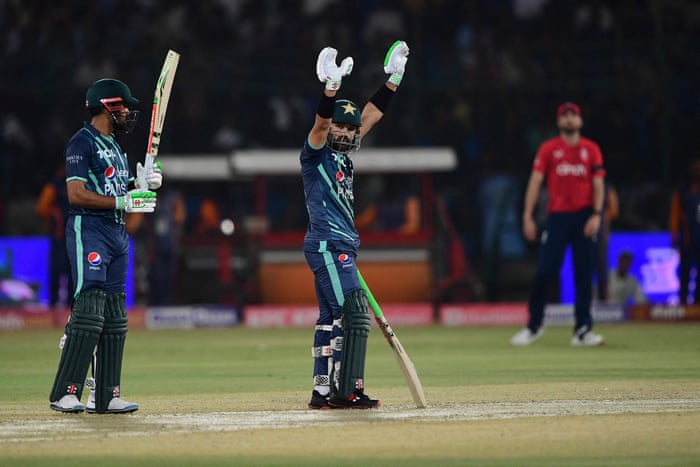 Bowled him with a googly! Rashid foxes Babar with a well-disguised wrong'un, the ball turning through bat and pad and scudding into the stumps. England needed that, Pakistan lose their first.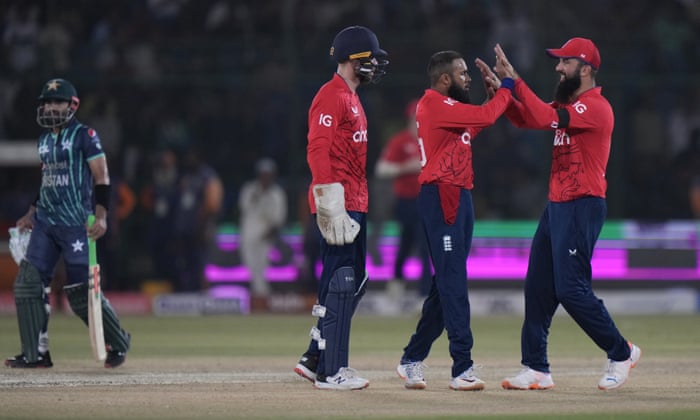 9th over: Pakistan 83-0 (Rizwan 42, Babar 27) Spin from both ends as Ali brings himself on. Five runs from the first four deliveries as the batters nudge and nurdle into the gaps… that's a huge SIX though! Rizwan hops and skips down the wicket and dispatches a length ball over long on for the first maximum of the series. Two more off the last ball make it 13 from the over.
8th over: Pakistan 70-0 (Rizwan 42, Babar 27) Moeen turns to spin and his best mucka – Adil Rashid. A mixture of flat skiddy deliveries and slower looping tempters from Rashid as he tries to find the best pace to bowl on this glassy-surface. No boundaries but Rizwan and Babar are expert at finding the gaps, seven runs easily collected from the over.
7th over: Pakistan 63-0 (Rizwan 38, Babar 25) Sam Curran trundles in and it seems to be easy pickings for Pakistan. A short ball is swatted away dismissively by Rizwan to the fine leg fence and a full ball delivered from around the stumps is driven powerfully back past the bowler for four more. 12 runs conceded from the over and not a single sniff for England.
6th over: Pakistan 51-0 (Rizwan 28, Babar 23) Fetch that! Rizwan takes a few steps down the track and clonks Luke Wood straight for four! That was a dismissive shot, Rizwan and Babar are lining up the England bowlers and looking very comfortable*. A quickly run barace brings up the fifty partnership up top for Pakistan. England need a breakthrough or it could be a looooong twenty overs.
(*mockers attempt?)
5th over: Pakistan 43-0 (Rizwan 21, Babar 22) Ali continues to rotate his bowlers. Richard Gleeson is summoned for some right arm over and gets away with three singles but then overpitches and is nonchalantly clipped to the boundary by Rizwan. Pakistan very much on the offensive, England's attack has looked a bit samey and one paced in these early stages.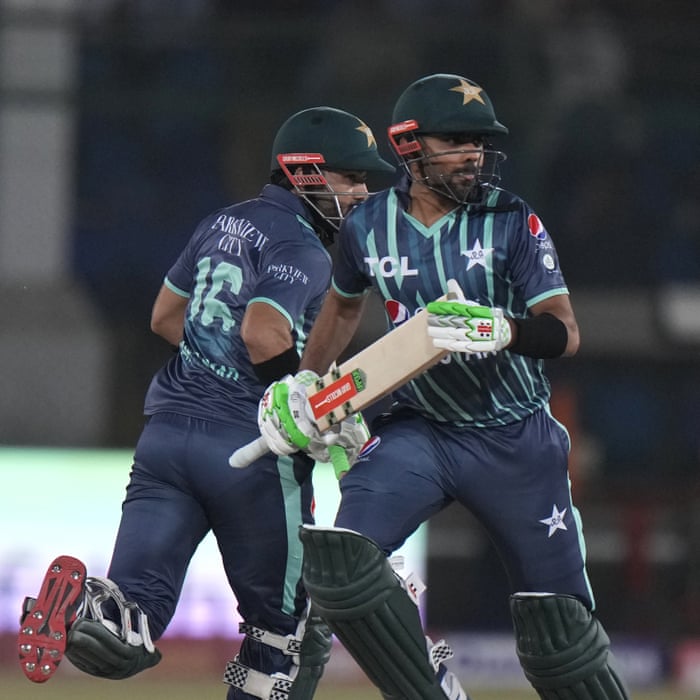 4th over: Pakistan 36-0 (Rizwan 13, Babar 19) Debutant Luke Wood is called upon early by Moeen Ali. Wood is the third of England's trio of southpaw seamers in this game and sends down a neat over, just four singles from it.
3rd over: Pakistan 32-0 (Rizwan 13, Babar 19) Beautiful batting from Rizwan who plunders back to back fours off Willey. A whip-crack cut shot followed by a neat flick to leg. 'Anything you can do…' Babar then plays the best of the lot, a back foot drive that whistles away in the gap. Sublime.
2nd over: Pakistan 15-0 (Rizwan 4, Babar 11) Sam Curran, complete with peroxide frosted tips, takes the new ball from the other end. He starts with three dots but then drops short and Babar pounces on it and flicks to the fine leg fence for four. The outfield looks rapid too. This could be a run-fest. Gulp.
1st over: Pakistan 9-0 (Rizwan 3, Babar 6) David Willey delivers the first ball of the game and a small piece of cricketing history. Rizwan is off the mark straightaway with a push through the covers. The crowd are enthusiastically cheering all the time, it is wonderful to hear. What an atmosphere! The crowd go into raptures as Babar whips Willey away for the first boundary of the game, a neat clip off his toes traces to the fence. Sharp running from this opening pair and it is nine runs off the first over.
The pitch has a sheen to it like that famous picture of Sabina Park by Patrick Eagar. I'm a long way away in sunny South London but from here it looks a belter.
The teams are out and lined up for the anthems. David Gower's lugubrious tones can be heard on the tv commentary. Moeen commands his men, sets his field. Rizwan and Babar stroll to the crease – the wicket is malted milk hued and looks rock hard. David Willey has the new ball in his left mitt. The crowd are up for this, so am I!
Let's play!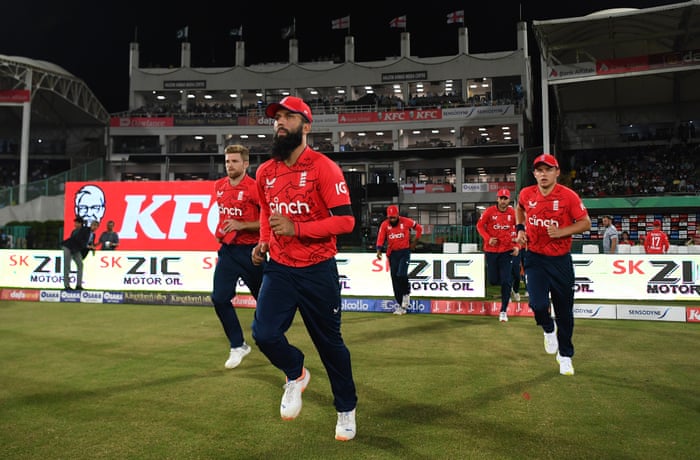 Alex Hales has been speaking to Sky Sports:
The esteemed Andy Bull is our man on the ground in Karachi, his evocative piece from the polo ground is well worth your time.