Ex-Trump adviser Peter Navarro pleads not guilty to contempt charges in January 6 case – live
June 17, 2022
Peter Navarro pleads not guilty to two charges of contempt of Congress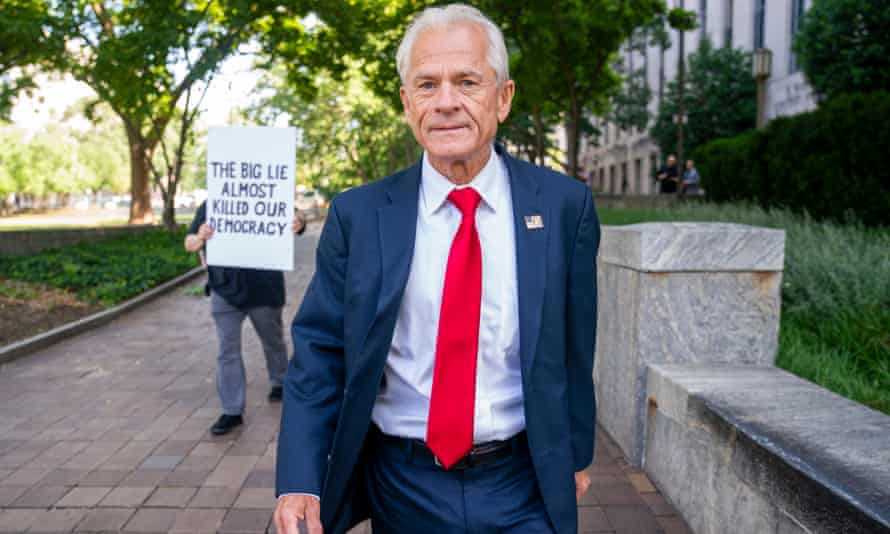 Then there are those who refuse to cooperate with the January 6 committee, such as Peter Navarro, a former top adviser on trade to Trump. He's just pleaded not guilty to two charges of contempt of Congress over his refusal to provide documents or testify to the House panel, Reuters reports.
Navarro was indicted and taken into custody earlier this month on the charges, despite his insistence that executive privilege protected him from cooperating with the probe.
As The Guardian's Hugo Lowell has reported:
Navarro was referred to the justice department for criminal contempt of Congress by the full House of Representatives in April after he entirely ignored a subpoena issued to him in February demanding that he produce documents and appear for a deposition.

The top White House trade adviser to Trump was deeply involved in efforts to overturn the results of the 2020 election from the very start, the Guardian has previously reported, deputizing his aides to help produce reports on largely debunked claims of election fraud.

Navarro was also in touch with Trump's legal team led by Rudy Giuliani and operatives working from a Trump "war room" at the Willard hotel in Washington to stop Biden's election certification from taking place on January 6 – a plan he christened the "Green Bay Sweep".
Interim summary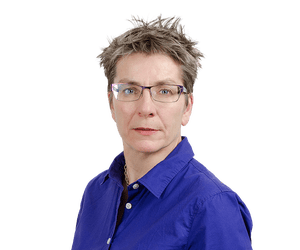 Joanna Walters
It's been a busy morning in US political news, though not as frenzied as some. There's more to come and Donald Trump is due to speak at the top of the hour at the extraordinarily-named Faith & Freedom Road to Majority conference in Nashville, Tennessee. A day after he was repeatedly accused of breaking the law from both right and left at the third January 6 hearing into the 2021 insurrection at the US Capitol.
Here's where things stand:
Biden hails FDA authorization of Covid vaccines for young children
President Joe Biden has cheered the Food and Drug Administration's decision today to authorize Covid-19 vaccines for children younger than five years old, the last group of Americans that didn't have access to the jabs.
"Today is a day of huge relief for parents and families across America. Following a rigorous scientific review, the Food and Drug Administration has authorized the first COVID-19 vaccines for kids under the age of five. As early as next week, pending recommendations from the Centers for Disease Control and Prevention (CDC), parents will finally be able to get their youngest kids the protection of a safe and effective COVID-19 vaccine," Biden said in a statement released by the White House.
"We are the first country to protect our youngest children with COVID-19 vaccines, offering safe and highly effective mRNA doses to children as young as six months old. My Administration secured vaccine doses for America's youngest children and now with FDA's authorization, we will begin shipping millions of vaccine doses for kids to thousands of locations parents know and trust—including pediatricians' offices, children's hospitals, and pharmacies. As doses are delivered, parents will be able to start scheduling vaccinations for their youngest kids as early as next week, with appointments ramping up over the coming days and weeks."
Those who have been following the inflation story closely know that car buyers often find themselves on the losing end of the nationwide price surge. For The Guardian, Allan Chernoff reports on the lengths one man went just to pay sticker price for a new Toyota:
After an auto dealer demanded $10,000 above sticker price for a new hybrid vehicle, car shopper Michael Rathjen of Kirkland, Washington, resolved to pay no more than the manufacturer's suggested retail price (MSRP) for the vehicle of his choice. He never dreamed his quest would take him eight months and 3,000 miles from home.
"I'm calling across the entire country. I'm thinking this is not going to be possible. I'm not going to find a dealer selling at MSRP," recalled Rathjen, a technical writer. "I kept calling further and further away until I hit Vermont."
In early May, Rathjen flew to Burlington, Vermont, to pick up his new Toyota RAV4 Prime, paid $51,000 for the fully equipped premium model, then immediately turned around and drove it cross-country to bring it home. The drive took eight days, with some stops to see sights and friends.
Near-record low inventory levels, supply chain backups and production delays do not fully capture the monumental challenge confronting consumers seeking to buy a popular new car, light truck or SUV without being gouged by profiteering dealers. Determined shoppers who want to pay sticker price in today's market must rely upon a reservoir of persistence and patience, and, in some cases, travel hundreds, even thousands of miles. Even so, shoppers like Rathjen are happy to do so. "I felt very lucky to get exactly what I wanted, and at MSRP," he said.
No, redistricting is not over. Louisiana has filed a petition before the supreme court asking it to overturn a lower court's ruling that ordered it to draw a second majority Black congressional district to comply with the Voting Rights Act.